Prince is THAT dude; always and forever
Beyonce killed it!…I've never been a huge fan but DAMN!
Eminem showing up with Busta was hot.
I don't know what a Young Joc is…don't care to
India Arie looked like Q*Bert
I don't get the T.I. thing
…or the Chris Brown thing
I don't know anything about that.
Chaka is that woman…even if she looked like Help! it's the hair bear bunch!
Damon Wayans need not to ever host, nor be on my television again.
Where did Janet get that 'back' from?
Thelma can so still get it.
This new dude hostin for BET is not going to cut it…he and his stupid face needs to clear off my Sony
Kelis is sexy as hell, even though she was rockin a leather Flo Jo outfit.
There was a pro black montage…Don King's decrepit ass comes out talking about America…THEN T.I. comes out and the first thing he says?
He moves Kilos….
Fantasia can make the horniest man soft in lest that 6 seconds
…she sounds like Hulk Hogan doing a leg drop on Donald Duck
And looks like Woody woodpecker had sex with one of Joedci's boots
This dude says 'meet me' everywhere and it's 'going down' 40 times
T.I asks what I know about something 55 times
…and THIS is music.
Nick Cannon should stop…everything
WHO invited THIS mess?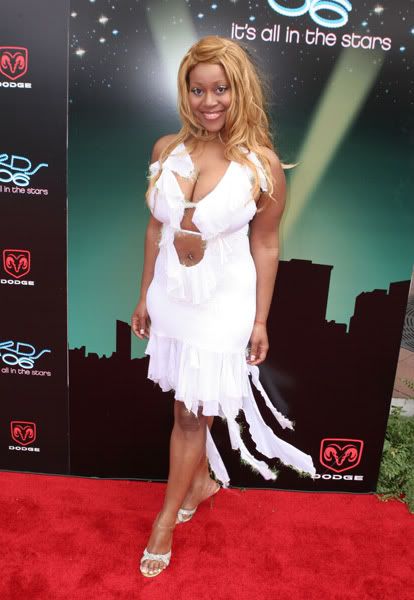 Why are men/boys still wearing their pants around their thighs?
…AND they have on belts…sigh
Chris brown DID look like smooth Criminal
…and the chick he pulled onstage had on shorts and stockings.
Ne-Yo looks like the Yellow M&M without the Candy shell
Mary J had on a denim onesey and some apache chief boots
…for no reason
Rah Digga looked sexy
Who knew there was a Monarchy in Atlanta?
…what exactly IS T.I. the King of?
Bad music?
Malnutrition?
Wackness?
Why are there commercials at the top of the stage?
Keyshia Cole was a little shaky and needed some under wire support.
…no way in HELL am I watching her OR DMX's show
What's that motorcycle rev up dance about?
Mary Mary makes me so happy Tivo can FF
Jagged Edge looked just that
Snakes on a plane…(sigh)
I dunno about being so sick of love songs but most of this music makes me turn off the radio
Room you can't go in over your granny's house couch material Dress wearing Vivica is NOT sexy any more.
Kirk Franks wife was alllllright with it
Steve Harvey is wack as hell.
Suit Jackets are starting to look like Trench coats…lookin like a pimped out Dick Tracy
There might have been a few sips of the non Cristal beverage backstage as a lot of people looked 'spirited' when they came out
Why am I up this late?
But what is Chaka talkin' about?
BET's owner looks like it stinks….whatever 'it' is…that.
Danny Glover looks like he makes a mean bowl of Oatmeal
 ..I'll watch Prince tomorrow on the Tivo, I need to go to sleep.
To the BOARD we go, let's talk about this show further